Easy Pay Solution
SECURE PAYMENT INTEGRATION FOR YOUR CONTACT CENTER
Maintain PCI compliance with "Easy Pay" by Primas. Easy Pay quickly eliminates your customers' concerns about the security of making payments by phone. Secure payment solution that let's your clients privately provide their sensitive payment information while on a call with an agent. The agent can watch the payment progress but can't see the credit card information. It is a super secured payment solution that gives your customers the ability to make their payments quickly and securely via other channels including chat, social media, or text.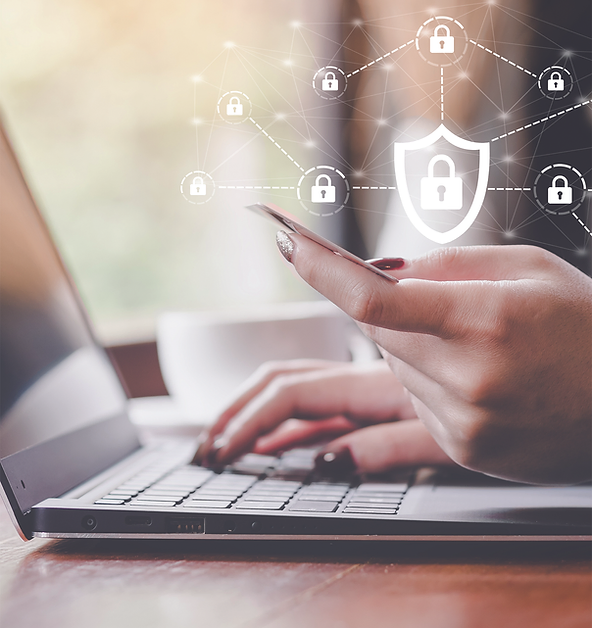 Easy Pay lives up to its name – making payments is easy, fast and secure. Here is a side-by-side walkthrough of the process.
STEP 1
Customer connects to payment page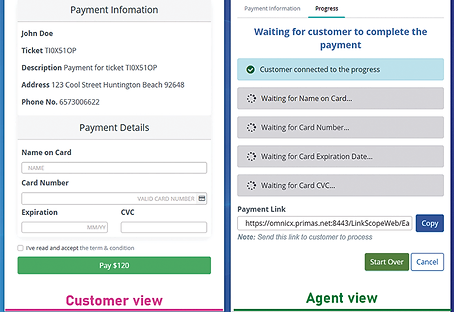 STEP 2
Customer enters name and required card information
STEP 2
An error message appears if incorrect information is entered
STEP 4
When valid information is entered, customer clicks to make payment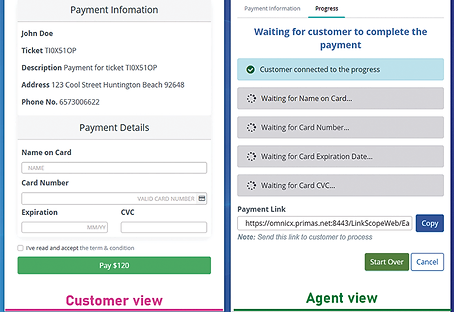 STEP 5
When transaction is complete, both agent and customer screens display transaction ID
STEP 6
Customer receives text message confirming successful transaction
With our ultimate Easy Pay solution, the payment process couldn't be easier. Your customers and your agents will thank you!!