Solutions for Call Center
At Primas Group, we recognize that one size does not fit all. Rather than making you fit our solutions, we tailor the solutions to fit your unique requirements.
With more than 25 years of experience and hundreds of successful call center deployments, Primas Group provides a variety of Professional Services that tailor our solutions to meet your specific industry and business needs. Whether you wish to implement Primas CX, a stand-alone application, or simply need some custom programing, Primas Group's professional services are key to your success. Our professionals have the product knowledge, experience and skills to assist you through any phase of your voice or speech project, ranging from requirements analysis through solution development/customization, installation, rollout and training. We specialize in deployments accomplished cost-effectively at the speed of need.
IVR and Speech Services
Enhances the callers' automated experience
Reduces menu prompt complexities
Increases IVR containment
Creates personalized, efficient self-service
Enhances and improves agent efficiency
Improves first call resolution rates
Custom Programming
Have it your way with Primas
We create solutions for the unique ways you do business
Offering a wealth of expertise in all aspects of the call center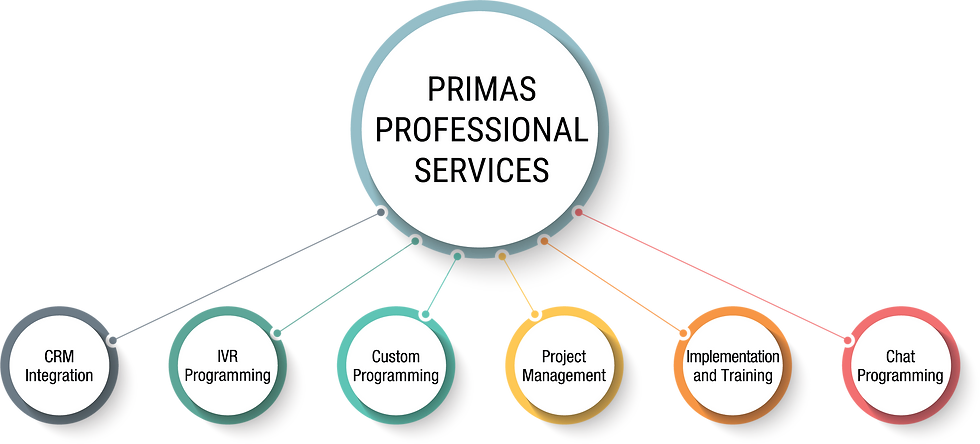 CRM Integration
Integrates with most of today's CRM solutions to provide a single point of entry
Connects Primas apps with your CRM platform so data can flow to, from, or between them, giving you a complete picture of your business and customers
Provides one unified view of your customers that empowers your company to make decisions based on real data and serve customers in a personalized, efficient manner
Helps you analyze data faster and make decisions based on reality and statistical trends, not estimates
Speech Application Development
Both natural language or direct command voice applications to match your unique requirements
Deployment of speaker verification technology, which enables IVRs to recognize who is calling, simply from their voice
Caller interaction services using speech and touchtone
Agent desktop and reporting solutions
Project Management
Simple or complex, out-of-the-box or custom – Primas engineers manage your project with skill
Define a continuous improvement process
New ideas can be considered and incorporated
Maximize your investment
Backed by experience of hundreds of designs and implementations


Implementation and Training

Implementation and training provided by Primas personnel
24 x 7 personalized support directly from engineers
All service tickets are Priority 1
2 – 4 hour response time
Minor tweaks while you sleep
Packages implemented in as little as 3 days
Proof of Concept/sandboxes available
Chatbot Programming and More
AI chatbot implementation and customization
Microsoft bot framework
Google Dialogflow and more
Hybrid bot integration
Supporting Millions of Automated Customer Contacts Daily
Primas' partnerships and relationships allow us to be early adopters of new technology and trends that we can leverage to meet your objectives.
Expertise and Knowledge – Our tech-savvy core group of seasoned veterans provides contact center self-service, solution design, development, implementation and integration services.
Cost and Value – with low overhead our rates are extremely competitive
Performance and On-time Delivery – when we commit to a delivery date, we mean it. Our professional services staff takes pride in being on schedule.
Innovation – we customize creative contact center solutions for your company to optimize automated customer interactions.
Partnerships – we have developed competencies with major contact center vendors.
Support – responsive engineering support and 24 / 7 maintenance plans available.
Tools – for internal use in system configuration, monitoring, testing and optimization