Screen Share and Video Contact Solution
Screen Share
The Screen Share app facilitates collaboration by sending a link from an agent's chat window for the customer to share his screen.
Primas CX Screen Share is so unique that it offers a deeper integration into the contact center than most remote screen share solutions. As a component embedded into the customer experience, Primas CX Screen Share Software can provide more in-depth information related to the entire customer journey, make the agent's job easier, speed up problem resolution and increase overall satisfaction. And our Screen Share solution is more than just a webpage sharing application. Collaborators can share their entire desktop or only those things they want the other party to see.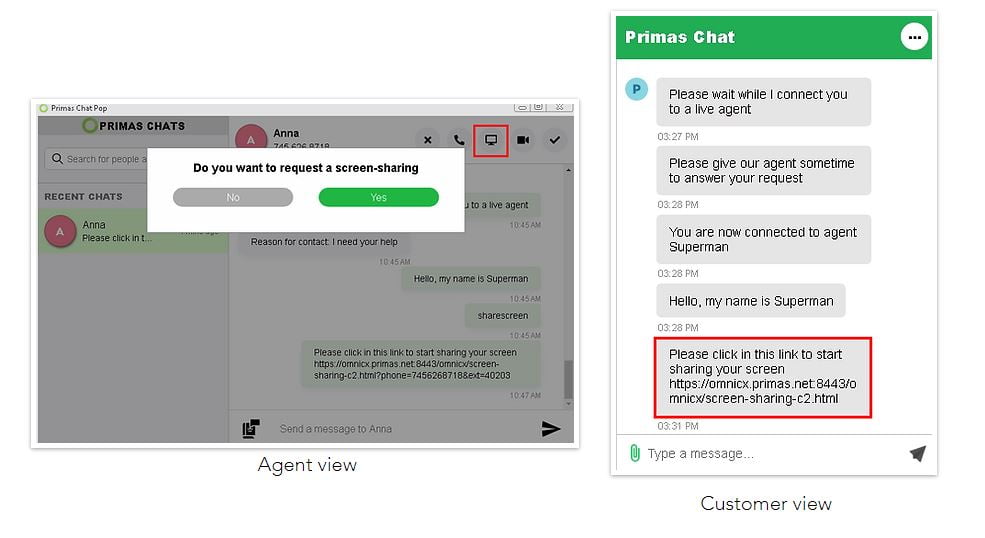 Video Contact Solution
Primas Video Share software allows customers to turn text conversations into video by clicking a link provided by the agent.
Communications are always more effective when the participants can actually see each other, watching for facial expressions, body language and more. Primas CX Video Share solution is embedded into the system, so there is no need to go to a different app. Simply click a link to switch instantly from chat to video conferencing or call. A server typically handles thousands of sessions, and Primas Video Share allows the agent to quickly look at each specific session via the web server. With Primas CX, video sharing is part of the solution – not a luxury.